Aging signs, dull skin, hyperpigmentation, uneven skin texture, and many other skin issues wear down the skin's appearance. Prolonged sun exposure is another factor that damages the skin and gives rise to skin issues. These skin conditions take a toll on our physical attractiveness and cause social inconvenience. Skin resurfacing treatments such as microdermabrasion, chemical peel, and carbon laser peel are advanced and innovative ways of dealing with skin concerns that stripe away your beauty and aesthetic presence. 
These skin resurfacing treatments uncover a more youthful, beautiful, smooth, and attractive skin that looks and feels likable. By removing the most damaged outer layers, these skin resurfacing procedures reveal the healthier-looking skin beneath and encourage new, healthy skin cell growth that maintains a youthful glow. They reverse the aging signs and skin concerns such as discoloration, uneven textures, wrinkles, spots, etc. 
How Do Skin Resurfacing Treatments Unveil Attractive Skin?
As the name suggests, these treatments either treat the outer damaged skin layer or remove it to uncover a healthy-looking, brighter and younger skin. Non-surgical skin resurfacing treatments are the best options for most patients, thanks to the relatively short treatment time, contrary to traditional invasive solutions. The proven rejuvenating effects and long-lasting results are some of the aspects that add to their overall value. These treatments are quick and painless with little to no discomfort. These multi-purpose skin treatments offer a solution to not one or two but various skin concerns.

Removing the damaged layer eradicates all kinds of skin imperfections and impurities. No matter what issue you face, these procedures can address almost everything. Be it acne scars, aging signs, dull complexion, uneven skin tone, sun damage, etc. – all are easily treatable. You may have a hundred questions about these skin treatments. But don't worry, we will further discuss the mode of action of these procedures, their effects, and procedures. 
Diamond Glow dermabrasion
You may have heard that exfoliation is crucial for skin health. It removes dead skin cells and other debris clogged into the pores over time. However, when skin becomes too prone to damage, it needs deeper exfoliation to appear healthy and beautiful. Microdermabrasion is a mechanical exfoliation process that removes the outer damaged layer of skin to remove visible skin imperfections and reveal smoother, healthier, and younger-looking skin. This process is a relatively mild skin resurfacing procedure applicable to the face, neck, hands, etc. 
The process is carried out either by using an exfoliating instrument or by dusting abrasive particles to cleanse deep and exfoliate the skin. The deteriorated skin layer breaks off and using a vacuum, it is removed.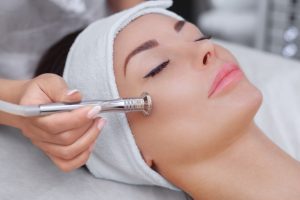 The procedure is quick, effective, and relatively mild than other invasive skin resurfacing approaches. It is safe for all skin types and does not cause any severe damage. The mild side effects, such as redness and skin sensitivity, subside within a few hours after the treatment. You can instantly see a difference in your skin imperfections. It minimizes aging wrinkles and skin creases, brightens the skin tone and texture, and reduces scars and marks on the skin. In addition to this, the new skin layer is more responsive to beauty products and skincare measures, increasing absorption and effectiveness. 
Chemical Peels
Chemical peels are another common cosmetic skin resurfacing approach gaining popularity rapidly. The process is simple and similar to a peel-off mask. But instead of some beauty mask, a medical esthetician applies an acidic solution, such as salicylic acid, to the skin. This chemical mask sits for about 10 minutes and is then removed. The results appear gradually after some days as your outer skin layer starts to peel off. 
The removing skin layer also plays its role in eradicating skin discoloration, scars, indentation, and other issues. Do not pull or forcefully peel off the skin, as it may cause damage and irritation. Let your skin do its job and enjoy youthful and beautiful skin free of imperfections. 
After the initial healing period following a chemical peel, some improvements will be immediately noticeable: brighter, tighter-feeling skin and a more even skin tone. However, the effects of a peel are cumulative, and many patients find repeating treatment periodically is needed for optimal results.

Carbon Laser Peel 
Carbon Laser Peel is another new advancement in the aesthetic world. This procedure works by using a carbon mask that absorbs all the impurities in the skin to cleanse it and extract harmful factors. 
After letting the carbon mask do its job, using a laser, the treatment area is heated to activate the carbon and remove different skin issues such as scarring, spots, pigmentation, texture issues, and fine lines. 
This skin treatment is quick and can also induce a skin rejuvenation effect to restore the skin's natural glow, smoothness, and supple appearance. Cutera Aesthetics can offer its acclaimed assistance and services to you for skin resurfacing. Say goodbye to your skin problems and get a free consultation with our experts today!