Preparing for your wedding involves not just the perfect dress or venue but also feeling confident and radiant on your special day. There are several specialized treatments designed to help you achieve that flawless wedding glow. Each treatment holds unique benefits tailored to your beauty goals. Let's delve into these transformative treatments that promise to illuminate your natural beauty on your wedding day.
HydraFacial 
HydraFacial isn't just another facial – it's a comprehensive rejuvenation journey for your skin. This transformative treatment encompasses deep cleansing, intense hydration, and a gentle chemical peel. It's the perfect recipe for unveiling a radiant and refreshed complexion. Experience the deep-cleansing benefits along with the glow-inducing results of a chemical peel, leaving your skin beautifully hydrated and glowing for your special day.
Carbon Laser Peel
Carbon Laser Peel is your pathway to brighter, more luminous skin. Powered by the FDA-approved Picosecond laser, this cutting-edge technology is ideal for addressing pigmentation and enhancing skin brightness. It's the go-to solution for tackling skin pigmentation, freckles, dark spots, and unwanted tanning, whether it's on your face or any other part of your body.
The best part?  This treatment is a breeze! With no discomfort, pain, side effects, or downtime, it's a smooth sail to your skin transformation. The magic lies in its ability to boost collagen production, ensuring a clear complexion and reinstating your skin's smoothness and radiance. All it takes is a few cozy sessions to witness the remarkable change. The outcome? Picture-perfect skin—bright, glowing, and completely spotless. It's your ideal skin prep for that wedding glow that steals the show.
HIFU
HIFU, or High-Intensity Focused Ultrasound, is a cutting-edge technology that can help you achieve firmer, more lifted skin and a beautifully sculpted jawline. This advanced technology uses the power of high-intensity focused ultrasound to penetrate deep within your skin's layers. The purpose of this treatment is to stimulate the natural production of collagen and elastin, essential proteins that contribute to skin health. By working at the cellular level, HIFU offers a non-invasive solution for reducing a double chin and tightening facial skin, ultimately bestowing you with the coveted, chiseled jawline you desire. The result? firmer, tighter, and more lifted and contoured skin enhances your skin radiance with confidence.
Deep Collagen Facial
Deep Collagen Facial is your antidote to aging, offering a solution to tighten and rejuvenate your skin. This procedure boosts collagen production and promotes natural repair, effectively addressing wrinkles, premature aging factors, and saggy skin. It gives instant skin tightening and a youthful skin appearance, promising an overall rejuvenation experience for your wedding day.
Laser Hair Removal
Say 'I Do' to a Hair-Free You! Unwanted body hair can steal the spotlight from brides and grooms on their big day. Bid farewell to time-consuming, uncomfortable waxing and shaving methods that often leave you dealing with skin irritation. Laser hair removal offers a more efficient, painless, and permanent solution. This treatment ensures a hair-free and confident experience, offering a seamless solution for unwanted hair and ensuring velvety, smooth skin on your special day.
Hair Fall Treatments
Hair loss is a common concern that can affect anyone, regardless of gender. It's more than just a cosmetic issue; it can deeply impact your self-esteem. But there's good news! Advanced Hair Fall Treatments are here to save the day.
These treatments, including Hair PRP/PRF, Mesotherapy, and PDO Threads, work like magic to stimulate natural hair growth and revitalize your scalp. They offer a rejuvenating solution for achieving healthier, fuller hair. These treatments promise luscious locks that perfectly complement your look.
In preparation for your wedding day, we invite you to explore these transformative treatments. Contact us at 0311 111 33 55 for a personalized consultation and embark on a journey to unlock your natural beauty and radiate confidence as you step into this cherished moment of your life. Book your Free Consultation Today!
When we say a facial treatment has caught some wild hype, we think maybe thousands or even tens of thousands of it being performed. But nope, the HydraFacial is performed over two million times annually around the world. That's one facial being performed every 15 seconds.
What is the Hydrafacial treatment
For those of us who've just hopped onto the catch-up train, the Hydrafacial treatment is a 4-step procedure, conducted with a hydradermabrasion device that performs deep cleansing and exfoliation. A glutathione peel is used for skin brightening and finally, the skin is lathered in hydrating serum and moisturizer. Clients witness hydrating skin, reduced oil production and a beauty glow.
It caters to every normal skin type
When I went to the dermatologist for my first Hydrafacial, I told my dermatologist about my sensitive skin and she all but waved away my concerns, assuring me that the procedure was completely safe and gentle. And that seems to hold true for all skin types- oily, dry, combination, pimple or acne-prone skin- everything, even skin with pre-cancerous spots. Yep, you read that right. Perhaps the only people not cleared for this facial are people with skin conditions like rosacea, sunburns, and pregnant women, since the facial makes use of salicylic acid which hasn't yet been cleared for pregnancy
Painless extractions 
Okay so fun fact: when I got my first HydraFacial I also asked my doc to skip the extractions because the one other time I'd had them, my skin had angry red bumps on it, hurt so bad, and was just splotchy to look at. Once again, my very patient derm told me to relax, that the suction setting on the machine was adjustable and she could do it on the lowest setting for me. Hesitantly I agreed and was surprised by how it felt like a light massage. The vortex machine gently did all the work and no pressing or squeezing was required. You actually get to see all the gunk that is removed so I guess bonus points for that too.
Modern beauty techniques have such a bad reputation of leaving your skin inflamed after, say, getting botoxed, waxed or bleached that we automatically assume that if it hurts now, it'll probably look stunning later. Fortunately, the HydraFacial has smashed that stereotype. 
Its very Customizable
So, to me, this is the most exciting part. This beautiful facial is so versatile, you can literally add on anything you like, or need. Need an extra brightening vitamin C boost? Done, its also a great face serum for glowing skin. you can even choose the strength of the glycolic acid peel that is applied post-cleansing. I usually opt for blue light therapy post-facial to calm any superficial redness and boost collagen production. Patients with acne are often recommended blue UV light therapy post-facial. Also, it pairs nicely with other treatments like fillers and even laser hair removal. And can be done one week post-RF and microneedling sessions to help shed the peeling skin faster and hydrate it at the same time.
Has zero downtime
The payoff with this amazing facial is instant. You get off the treatment chair and look in the mirror? Bam, you're floored. Your skin is soft, and supple to the touch and has a pinkish glow to it. You realize you don't need makeup at the moment. This ladies and gentlemen is the secret to HydraFacial's success. This is why celebrities flock to salons before their weddings and big events to get flawless skin. Since no needles or incisions are involved, recovery time isn't required. That said, to really observe the magic of the HydraFacial, pair it with hyaluronic acid moisturizer. As your pores shrink, your skin will get bouncier and plump and you'll witness the glowing skin that almost everybody who gets the treatment, raves about. HA also doubles as the best toner for glowing skin.
Opt for a good caretaker for your dull skin.
Personally, I've always enjoyed my experience at Cutera Aesthetics. They have fully qualified trained professionals with exemplary repute and experience preceding them. The staff doesn't just perform a service. Instead, they understand that it is their responsibility to ensure that each customer enjoys their experience and is happy with the results. Their HydraFacial is a personal favorite. It's actually a very soothing procedure that really helps you destress. Bonus: your first consultation at Cutera is free!                                    
Sun damage is one of the top factors that contribute to aging skin. Ultraviolet rays are responsible for most prominent skin concerns like hyper pigmentation, damage collagen-producing cells, and can trigger skin cancers and melasma. Sun rays can cause cellular lever damage to the skin and alter DNA to affect our aging system negatively. But this also means that the skin may be sustaining significant damage at deeper levels but appear relatively normal at the surface.
Dermaplaning
Dermaplaning is the best treatment for dark spots on face. It involves removing the outermost layer of the skin, the epidermis. Dead skin cells often accumulate here along with fine vellus hair on the face. By removing both of these, the skin appears smoother and brighter. As a more beneficial side effect, the skin also appears to better absorb topically applied moisturizers and serums.
While the procedure appears simple, dermaplaning at home is not risk-free. There's always a chance that you could cut yourself which could lead to facial scarring or infection. Opt for professional care for the best results
Facials and peels
Dermaplaning and other such in-office treatments may require you to avoid the sun for perhaps a week or so. And since the most damage acquired by the skin is obviously during summer, it is a good idea to begin reviving your skin in autumn when the sunlight has lost most of its intensity, and covering up the skin is the norm. This might be the perfect time to get chemical peel treatments and the Diamond Glow facial. This facial gently exfoliates and cleans pores of impurities. Then targets sun spots and damage with a serum infusion. The L-ascorbic acid serum helps reduce fine lines and improves skin texture that is damaged by the sun.
Another very effective way to deal with sun-damaged skin is through chemical peels since they burn away the outermost sun-stained layer of skin. In-office peels are almost always preferable to the ones done at home because your dermatologist can adjust the composition of each peel to suit your specific skin issues. The glycolic peel is the most favored chemical peel for reversing sun damage.
Vitamin C
It is a natural antioxidant that helps exfoliate skin and smoothen fine lines like crow's feet created by the sun. And when combined with lactic acid, it contributes to the production of collagen and elastin. Collagen is responsible for youthful skin, and healthy joints, it also prevents bone loss and helps maintain heart and muscle health. However, the body loses one percent of its collagen reserves annually so preserving collagen essentially translates to preserving youthfulness and prolonging skin tightening. UV rays directly affect these collagen stores and cause them to dwindle more rapidly so Vitamin C is essential in restoring and regenerating collagen to reverse sun damage. There are many collagen serums on the market today but using vitamin C triggers the body's own natural production.
Retinol
This is the star ingredient for sun defense, also known as dark spot remover. Because they improve cell turnover to reduce aging signs and reverse sun damage. They also effectively trigger collagen production that may have suffered due to excessive UV rays exposure collagen then helps reduce fine lines and sagging skin to produce a smoother complexion. While it may appear that the main achievement of retinol is smoothing out lines and boosting elasticity, it also helps retexturize sun-affected skin to help prevent breakouts and other skin pigmentation issues like dark spots on face. For sensitive skin, using retinol as a remodeling and anti aging serum for the first time may cause some irritation. So, use milder concentration till the skin gets used to it.
Sunscreen
Finally, it is important to highlight that sunscreen will always be your best defense against sun damage and aging skin. Be liberal with the amount you use: coin-sized dollop for your face and double that amount for your body. 
Opt for a good caretaker for your skin.
  Personally, I've always enjoyed my experience at Cutera Aesthetics- the best anti-aging clinic. They have fully qualified trained professionals with exemplary repute and experience preceding them. The staff doesn't just perform a service. Instead, they understand that it is their responsibility as caregivers to ensure that each customer enjoys their experience and is happy with the results. Their DiamondGlow Facial is a personal favorite and they have a variety of chemical peels to combine with a diverse facial range. Don't forget to try their glycolic peel on your visit. The first consultation is free!                                    
This blog lists some ways you can get facial rejuvenation without the help of fillers. That is not to say that fillers are going out of fashion. Injectables are and probably always will be a popular means of getting "work done," since they are quick, accessible, and relatively predictable. However, they come with their own set of challenges: getting regular maintenance shots, spending a considerable amount on each and every fine line, and having needles in your face. So for all those who desire alternatives to fillers, this list is for you.
Chemical peels for discoloration
Another very effective way to deal with sun-damaged skin is through chemical peels since they burn away the outermost sun-stained layer of skin. These are the cheapest and easiest of most skin rejuvenating methods and hence are usually the first steps toward better skin. In-office peels are almost always preferable to the ones done at home because your dermatologist can adjust the composition of each peel to suit your specific skin issues. The glycolic peel is the most favored chemical peel for reversing sun damage.
HIFU for tightening
High-intensity focused ultrasound (HIFU) is a non-invasive ultrasound therapy that helps slim down and firm up fatty and loose areas on the face and body without surgery. It must be kept in mind that Ultherapy only fixes mild to mediocre skin sagging. It goes about a much more natural route than the traditional surgical facelift and botox muscle manipulation. The ultrasound waves travel past the surface and deeper into the skin to stimulate collagen and elastin production. These are both naturally occurring proteins in the body that work to keep skin healthy and young by providing cellular-level support which makes the skin supple and taut. 
RadioFrequency for fine-lines
RF works best on men and women showing early signs of aging. Dermatologists recommend their patients get the RF treatment soon after they turn 30. To ensure the reproduction of collagen is triggered before the fine lines deepen into creases. And since it's a natural treatment you will see your skin continuously improve over 5-7 months after being treated. The results are usually expected to last up to a good year.
PRP for radiance
PRP works by taking a sample of your blood, and spinning it in a centrifuge to separate and remove red blood cells. You're now left behind with plasma that is rich in platelets (hence the name.) Since platelets help trigger collagen production and increase cell turnover this method forces the body to make new cells to replace the dead ones. This platelet-rich plasma is infused deep into the skin through micro-needling. 
Picosecond Laser for texture improvement 
Picosecond is a non-invasive technique that uses highly focused energy to target affected areas of the skin. To fix a variety of skin imperfections like melasma, hyperpigmentation, sun damage, photodamage, and even fine lines and wrinkles. This is done by delivering highly intensive energy in short bursts to the affected area. This delivers controlled injury which triggers the body's own healing process. Collagen production is now stimulated. It is responsible for repairing and rejuvenating the skin picosecond and has been proven to be effective against acne scarring as well. Patients may feel mild but manageable pain with a short downtime of about forty-eight hours.
Who do they work for
These procedures work best on men and women showing early signs of aging. Collagen and elastin production falls over time with sun exposure and age. So, it is not advisable to wait too long. This is why most dermatologists recommend their patients get treatment soon after they turn 30. Ensuring the reproduction of collagen is triggered before the fine lines deepen into creases. 
Opt for a good caretaker for your skin.
In most cases, there are no side effects to these procedures. You might experience some temporary breakouts or subdermal trauma. But that too can be completely avoided if your doctor is gentle and careful with the device. This is why if you have sensitive skin or any condition like rosacea, you must choose an experienced and professional dermatologist. Get your skin checked before treatment because effects vary from area to area and skin to skin. I've always enjoyed my experience at Cutera Aesthetics. They have fully qualified trained professionals with exemplary repute and experience preceding them. And their first consultation is free!                                    
Skin and beauty procedures and treatments are ever-evolving, and Chemical Peels are one of the most exceptional finds in the beauty industry, and for good reason. Skin resurfacing treatments like chemical peels help old skin peel off and promote rapid cell turnover for healthier skin. All chemical peels remove a controlled amount of skin cells from the epidermis.
How Does a Chemical Peel Work?
During a chemical peel treatment, a dermatologist applies an exfoliant acid. First to the thicker areas of skin peel on face, such as the chin, nose, and cheeks, and then to the thinner areas around the eyes and mouth. After the chemical peel, the dermatologist may use cool saline compresses to remove any remaining exfoliant. The process can cause swelling and peeling, which may take 1-2 weeks to go away, depending on the depth and intensity of the peel. It is vital to keep the face dry and not shower or use face wash for the first 24 hours. Also, do not use makeup until the skin has healed.
Do Chemical Peels Hurt?
The simple, one-word answer to this question is no.  However, the pain tolerance of every person is different. Although chemical peels are non-surgical and non-invasive, it still uses a chemical solution to penetrate deeper layers of the skin. It can be a little uncomfortable for many people.
Gentle Skin Resurfacing Treatment 
Chemical peels are extremely common and favored by aestheticians and dermatologists for their effectiveness and ease of use. Peels are even gentle enough for those with sensitive skin, as it's much milder than mechanical exfoliators. As we age, our cell renewal rate decreases significantly. Peeling is the best way to speed up your natural cell turnover to uncover fresh, healthy skin underneath the layers of dead surface skin cells.
Peels can effecively heal skin scarring and reduce the appearance of melasma and hyperpigmentation, reduce pore  size, and even out your skin tone and texture. A dermatologist may conduct a deeper peel or laser to resurface your skin at the dermal layer for intense scars. It is always best to have your esthetician analyze your scars and assess what to expect regarding results.
Why did Chemical Peels Become Popular?
People have started recognizing the importance of skin care measures and beauty treatments. Among all available skin procedures, chemical peels ensure skin rejuvenation and treat various skin imperfections while promoting overall health. This procedure helps eliminate skin issues with an easier and more convenient solution. Surgical alternatives are too invasive and painful, while other non-invasive treatments can cause various risk factors. Chemical peels for acne scars are safe and customizable. You can work with your esthetician to choose if tca or glycolic acid peel suits you best. Thus, their popularity in the aesthetic market has increased over the last few years and will continue to grow. 
What Are The Benefits Of Chemical Peels?
People enjoy chemical peels for their ability to reduce fine lines, wrinkles, discoloration, redness, acne scarring, and blemishes. They also help to improve skin texture by reversing sun damage, smoothing out rough skin, increasing collagen, and enhancing the appearance of firm, taut skin. This minimally invasive way to visibly improve the appearance of the skin can also be administered on the neck and hands or anywhere else on the body for immediate results you can see and feel.
A light chemical peel improves skin texture and tone and lessens the appearance of fine wrinkles. The results are subtle but increase with repeated treatments. If you have a medium chemical peel, treated skin will be smoother. After a deep chemical peel for melasma, you'll see a dramatic improvement in the look and feel of treated areas. Results may not be permanent. Over time, age and new sun damage can lead to new lines and skin color changes. 
You are sure to enjoy your experience at Cutera Aesthetics. They have fully qualified trained professionals with exemplary repute and experience preceding them. The staff makes sure that each customer enjoys their experience. And your first consultation at Cutera is free!                                    
Platelet-rich plasma (PRP) is a "natural filler" treatment that gives a more youthful appearance to the skin with minimal downtime. PRP improves overall skin texture, decreases the appearance of fine lines and wrinkles around the mouth and eyes, and plumps hollowing areas such as grooves, cheeks, and temples.
Why is PRP Therapy Necessary Aspect in Today's Aesthetic Industry?
After 25, your body's collagen production rate begins to drop. It continues to decline significantly for the rest of your life unless you do something to stimulate its production rate. Collagen production is stimulated when skin cell trauma occurs. This occurs during a vampire facial treatment when the tiny needles penetrate the upper layers of your skin during the micro needling portion of your treatment.
Long-Term Benefit of vampire facial for the Skin 
Reduced Fine Lines and Wrinkles
Lines and wrinkles are the most common reasons people seek a vampire facial. These common signs of aging are treated as cellular turnover is promoted. Old skin cells are recycled, and new skin cells, collagen, and elastin are formed. Fine lines and wrinkles are partially eliminated as your facial skin tightens naturally in response to the micro-injuries produced by the treatment. The appearance of deeper folds is also diminished by plumping out the hollow areas of your face.
Tighter, Firmer Skin
As stated previously, collagen is also essential for tight, firm skin. Your skin starts to sag as you age, but wrinkles and lines don't always form. Collagen plumps up the skin. Some people may use a vampire facial treatmnt to plump up their lips. Others use it to re-contour their cheeks without requiring an invasive medical procedure. Regardless of your skin insecurities, be sure to ask how a vampire facial can help you achieve your ideal aesthetic.
Improved Moisture Retention
The stronger and thicker your skin is, the better it can protect itself and the deeper layers under it from outside irritants. A strong skin barrier also helps to retain moisture. Moreover, it helps to unclog your pores, making your skin more receptive to prescription moisturizers. The effects of a vampire facial also include the reduced appearance of pores and blemishes. 
Enhanced Skin Tone and Texture
Most forms of scarring, stretch marks, hyperpigmentation, and poor skin texture can be corrected with PRP. With collagen triggering new cell growth, you can witneess improvement in the appearance of your skin within just a few short days after a vampire facial. Get your prp facial rejuvenation from Cutera Aesthetics.
Relatively Painless 
Before your prp facial begins, your facial skin is gently yet thoroughly cleansed. This ensures no dirt, dust, pollen, pollutant, makeup, or any other imperfection on your skin that could cause an adverse reaction to treatment. Once your skin care professional has sanitized your face, he will apply a local anesthetic to the treatment site. Indeed, the thin, delicate skin around your eyes, hairline and mouth is susceptible. Yet while you may feel the treatment being applied, you will not feel any pain or discomfort.
Treatment Is Quick
The PRP process may seem like it would take a while. First, your blood has to be drawn into syringes. Then, it is to be placed into a centrifuge and processed. But it doesn't take very long- approximately between 30 and 60 minutes.
Lasting Results
Some anti-aging treatments last only a week or two before you need to receive them again. While you may need four 30-minute micro-needling treatments, each requiring an additional half-hour waiting for the anesthetic to start working, you will only need half the number of treatments to get the same results with a vampire facial treatment. Skin rejuvenation typically takes four treatments, and each of these sessions needs to be spaced four to eight weeks apart.
No Downtime Is Required
Just as we all want to look younger and avoid looking run-down, we don't have time to look any less than our best at all times. With traditional micro needling, you can experience significant redness for five to seven days. With the addition of platelet-rich plasma to your treatment, you can eliminate this downtime. Thanks to PRP, the "micro-injuries" created are healed quickly.
You are sure to enjoy your experience at Cutera Aesthetics. They have fully qualified trained professionals with exemplary repute and experience preceding them. The staff makes sure that each customer enjoys their experience. And your first consultation at Cutera is free!                                    
More and more people are leaning toward the naturally-refreshed look and are influenced by celebrities and other media. Hydra Facials in Lahore have become a go-to treatment for all citizens. This is a skin procedure that does not involve needles and other invasive measures to rejuvenate our skin. Instead, it is just like a facial, but a lot more! 
What is a Hydra Facial, and How is it Better than Regular Facials?
The best hydra facial in Lahore are offered by dermatologists and in aesthetic clinics like Cutera Aesthetics. This patented skin treatment is used to treat a slew of skin concerns such as acne, dryness, hyperpigmentation, and wrinkles.  Basic facials only treat the skin to the outer layer and do not go in-depth to address the root causes. These are issues such as dark spots, pigmentation, acne breakout, tired-looking skin, and premature aging. 
What Is a Hydrafacial?
The Hydra Facial uses dermabrasion to exfoliate the skin. A multi-step process that uses chemical exfoliants paired with deep hydration. You may think of this skin procedure as a mixture of chemical peel and microdermabrasion. The Hydra Facial also bears some similarities to a regular facial but tends to offer more dramatic results. 
Moreover, the HydraFacial is far more soothing to the skin. So much so that it is commonly offered one to two weeks after more invasive procedures like chemical peels or laser treatment. Not only does the HydraFacial effectively slough off dead skin after these treatments, but it also soothes and hydrates. 
Benefits Of A Hydrafacial
The HydraFacial thoroughly cares for your skin, providing cleansing, exfoliation, extractions, and hydration, including multiple antioxidants, peptides, and hyaluronic acid. It also removes dead skin cells and extracts impurities while bathing the new skin in moisturizing serums. The treatment is soothing, refreshing, non-irritating, non-invasive, non-surgical, and immediately effective.
How Does A Hydrafacial Work?
Usually performed by a licensed esthetician or a dermatologist, a HydraFacial is a three-step process facilitated by a mechanised wand. During the procedure, the tips of the wand are swapped out for each step of the process. 
Step 1: Deep Clean And Peel – The first step of the process uses a tip that essentially works like a vortex to clean out dirt and debris from deep within your pores. Additionally, during this step, the epidermal and dermal layers of the skin are exfoliated with a series of chemical exfoliants such as lactic acid, glycolic acid and salicylic acid. 
Step 2: Extraction – The second step of the HydraFacial uses a tip that extracts or vacuums any remaining debris from clogged pores. 
Step 3: Deep Hydration – The final step of the HydraFacial uses a pen-like attachment to apply a hydrating serum, typically hyaluronic acid and peptides, to the skin.  
Hydrafacial Aftercare
The results of a HydraFacial are immediate. Following the procedure, most people will notice brighter, more radiant skin, more even skin tone, and there should be no signs of irritation, redness, or peeling.  
Moreover, the great thing about the HydraFacial lahore is no downtime. And while there's nothing specific to do regarding aftercare. It's best to steer clear of any type of exfoliation or other invasive procedures following a HydraFacial. 
How Often Should You Get A Hydrafacial?
There are no hard-and-fast rules about the frequency of HydraFacial treatment, but as you may suspect, it depends on your skin's needs. While some people may require a HydraFacial every two weeks to achieve their desired results, others can stick to doing a HydraFacial for acne once a month just as well. Your esthetician or dermatologist can help you determine the right frequency for you based on your skin type and your ultimate skincare goals. 
How Much Does A Hydrafacial Cost?
Typically, Hydra facial price in lahore is not too expensive. However, the overall cost of the treatment depends on various factors, including the procedures, tools, and extraction involved in the process. Another factor that affects your treatment is the medical professional you choose and his qualifications! In the hands of the wrong person, any treatment can lead to adverse side effects. Thus, Cutera Aesthetics can guide, assist, and treat you with utmost care and professionalism. 
Microdermabrasion is a non-invasive cosmetic scar treatment for the face that exfoliates the skin and removes the outermost dead skin layer. The aim is to reduce the appearance of scars by revealing healthier skin cells and stimulating collagen production through micro-injuries to the skin. Afterward, there may be slight swelling or  -like symptoms for a few days. This versatile treatment addresses various skin concerns, including acne scars, pigmentation, poor texture, uneven skin tone, and aging signs. 
The treatment results depend primarily upon the skin condition and how worse the damage is. Still, Microdermabrasion allows the clients to address most of their skin concerns with a minimum of 3 to 4 sessions. However, aging signs are more deeply rooted and may require more sessions, but the results promise evident results. 
The Basics Of Microdermabrasion treatment
Simply put, Microdermabrasion is a scar treatment for face, an exfoliation process that gently removes the outer layer of your skin, where the dull, dead skin cells lie. The treatment uses tiny crystals that break up these cells to reveal the smoother, softer skin underneath. The crystals are gently worked into your skin by a handheld device. You can remove dead skin from your face and neck without damaging the fresh, healthy skin below.
Microdermabrasion: Long-term Uses and Benefits
Microdermabrasion is safe and effective for all skin types. The exfoliating crystals are delicate and won't cause damage to your skin. Since dermabrasion requires no incisions or anesthesia, there's no risk of scarring or infection. Treatment is painless and can take an hour or less. After just your first microdermabrasion treatment, you can expect to see brighter, more vibrant skin. Additional treatments may be necessary to help you optimize your results.
If you're looking for a safe, effective way to boost your skin's vibrancy and turn back the hands of time, a dermabrasion consultation is your next step. You can book an appointment conveniently online or call the office to learn more. 
Dermatologists may also use microdermabrasion to enhance the results of anti-aging or skin-bleaching products. The procedure can help these products penetrate the skin better. People can have this treatment every two weeks or monthly, depending on their skin type and the reason for treatment. Most people request dermabrasion to rejuvenate the complexion of the face and neck, but a specialist can perform the procedure on any area of skin. The results are not permanent but can help the skin look fresh in the longer run.
Achieving Your Results
Each treatment starts with a thorough evaluation of your skin. The estheticians ensure the procedure is safe for you and will provide the desired results by customizing it according to your skin concerns. Cutera Aesthetics– the best anti aging clinic- can help you decide the treatment's range by customizing it. We offer up-to-the-mark service at economical rates. You may consider microdermabrasion treatments to:
You can also amplify your microdermabrasion results by combining the procedure with other services, including a facial or chemical peel.
No Downtime, Immediate Results
There's no recovery time after a microdermabrasion appointment. You can return to your usual routine after your treatment without limitations. You may have some redness after your treatment, which resolves independently without further treatment. Your skin continues to heal in the days after your exfoliation, and your results will continue to improve.
If your skin appears dull, lifeless, or even older than you would like, you can give it an instant boost with a microdermabrasion treatment. This treatment can rejuvenate the skin from time to time. New, much healthier skin hides below the surface of the old, dead surface skin, and microdermabrasion is an ideal way to uncover it instantly, without the risks of scars or side effects.
Microdermabrasion vs. Dermabrasion
Microdermabrasion is less invasive than dermabrasion. Dermabrasion uses more intensive methods to remove the top layer of skin. A dermatologist may recommend dermabrasion for older acne scars or scars from accidents or surgery, as microdermabrasion may not be fully effective on such skin problems.
Cutera Aesthetics is among the well-known and credibly acclaimed anti aging clinics to treat your aging skin signs and uncover your youth. Dermabrasion cost is not very high and caregivers ensure that each customer enjoys their experience and is happy with the results. Cutera sculpt is a trusted service and their first consultation is free!         
We have often heard of laser and carbon treatments for various skin imperfections, defects, and concerns. Now, we have Carbon laser peel that comprises both these technologies to eradicate skin issues. A laser treatment for acne scars that aims to revitalize, refresh, and exfoliate your skin to cancel out impurities and make it look healthier and youthful. 
What Is a Carbon Laser Peel? 
This skin procedure is a non-surgical and non-invasive treatment that combines the power of laser and carbon to address various skin issues, including laser acne treatment, clogged pores, uneven tone, and dull, dry, and textured skin. This procedure differs from traditional chemical peels but produces similar results on a deeper level. Instead of using chemicals, a carbon peel utilizes heat delivered via lasers on top of a carbon mask. 
It is the best the treatment for melasma on face for individuals with sensitive skin as its side effects is minimal. Unlike a chemical peel, there's less risk of redness and irritation. A carbon solution is combined with lasers to remove the top layers of skin, revealing the fresher skin beneath. Moreover, carbon laser peel is a painless procedure that doesn't require any extended downtime that surgical procedures limit us to.  
What Can It Treat?
There are a variety of skin conditions that may benefit from carbon laser peeling. But the magnitude of treatment results can differ based on your skin condition. However, this skin procedure works best for mild to moderate issues and is not always the ideal choice for severe skin problems. Still, one of the most common reasons people try a carbon peel is to treat acne and get acne scars removal. It targets current breakouts, melasma, hyperpigmentation, and scarring left behind by past breakouts.
 A carbon peel is also suitable for reducing pore size and clearing clogged pores. It works as a hyper pigmentation treatment on your skin and for dark spots that arise due to age and sun exposure. For people who want to slow down the signs of aging, a carbon peel can help. It works to soften and blur fine lines and wrinkles. Because carbon peels are ideal for sensitive skin, so it's often a better choice for those with eczema and rosacea. A carbon peel isn't suitable for everyone. Talk it over with your dermatologist to determine if it's a viable solution for caring for your skin. 
How Does the Procedure Work?
The first step is to apply the carbon solution. This is usually done via a dark-colored lotion due to the presence of carbon. The lotion is left to dry for about 15 to 20 minutes. It collects the sebum, debris, and product build-up on your skin during this time. Because the treatment is painless, you won't need any numbing cream on your face. Next, a laser is passed over the surface of your skin. This destroys the carbon and any impurities left behind on your skin. The heat also starts the healing process and boosts collagen production. The result is younger-looking skin that's plumper, smoother, and healthier. 
Recovery
The good news is that a carbon peel doesn't require any downtime, and recovery is minimal. You may notice a slight redness across the surface of your skin, but this is usually minor and resolves quickly. Immediately following treatment, you'll need to use gentle skincare products. You will also want to wear sunscreen to limit further irritation caused by the sun. For about a week after the treatment, you should avoid using any other exfoliating products and those that contain retinol. 
Collagen-boosting products can enhance the results of your carbon peel. Most patients return to normal activities as soon as their carbon laser peel is completed. There's no need to schedule time off to recover, and most people probably won't notice that you've had the treatment done. You will probably see an improvement right away since a carbon peel exfoliates. That means smoother, cleaner skin immediately after the carbon solution is washed away. 
Cutera Aesthetics is among the well-known and credibly acclaimed aesthetic clinics to treat your pigmentation and melasma issues. Cutera provides fully qualified trained professionals with exemplary repute and experience preceding them. The staff doesn't just perform a service. Instead, they understand that it is their responsibility as caregivers to ensure that each customer is happy with the results. Cutera's Carbon Laser Peel is a trusted service and their first consultation is free!                                    
Aging signs, dull skin, hyperpigmentation, uneven skin texture, and many other skin issues wear down the skin's appearance. Prolonged sun exposure is another factor that damages the skin and gives rise to skin issues. These skin conditions take a toll on our physical attractiveness and cause social inconvenience. Skin resurfacing treatments such as microdermabrasion, chemical peel, and carbon laser peel are advanced and innovative ways of dealing with skin concerns that stripe away your beauty and aesthetic presence. 
These skin resurfacing treatments uncover a more youthful, beautiful, smooth, and attractive skin that looks and feels likable. By removing the most damaged outer layers, these skin resurfacing procedures reveal the healthier-looking skin beneath and encourage new, healthy skin cell growth that maintains a youthful glow. They reverse the aging signs and skin concerns such as discoloration, uneven textures, wrinkles, spots, etc. 
How Do Skin Resurfacing Treatments Unveil Attractive Skin?
As the name suggests, these treatments either treat the outer damaged skin layer or remove it to uncover a healthy-looking, brighter and younger skin. Non-surgical skin resurfacing treatments are the best options for most patients, thanks to the relatively short treatment time, contrary to traditional invasive solutions. The proven rejuvenating effects and long-lasting results are some of the aspects that add to their overall value. These treatments are quick and painless with little to no discomfort. These multi-purpose skin treatments offer a solution to not one or two but various skin concerns.

Removing the damaged layer eradicates all kinds of skin imperfections and impurities. No matter what issue you face, these procedures can address almost everything. Be it acne scars, aging signs, dull complexion, uneven skin tone, sun damage, etc. – all are easily treatable. You may have a hundred questions about these skin treatments. But don't worry, we will further discuss the mode of action of these procedures, their effects, and procedures. 
Diamond Glow dermabrasion
You may have heard that exfoliation is crucial for skin health. It removes dead skin cells and other debris clogged into the pores over time. However, when skin becomes too prone to damage, it needs deeper exfoliation to appear healthy and beautiful. Microdermabrasion is a mechanical exfoliation process that removes the outer damaged layer of skin to remove visible skin imperfections and reveal smoother, healthier, and younger-looking skin. This process is a relatively mild skin resurfacing procedure applicable to the face, neck, hands, etc. 
The process is carried out either by using an exfoliating instrument or by dusting abrasive particles to cleanse deep and exfoliate the skin. The deteriorated skin layer breaks off and using a vacuum, it is removed.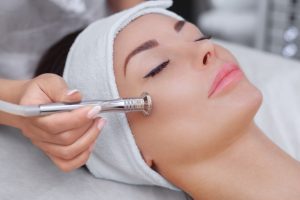 The procedure is quick, effective, and relatively mild than other invasive skin resurfacing approaches. It is safe for all skin types and does not cause any severe damage. The mild side effects, such as redness and skin sensitivity, subside within a few hours after the treatment. You can instantly see a difference in your skin imperfections. It minimizes aging wrinkles and skin creases, brightens the skin tone and texture, and reduces scars and marks on the skin. In addition to this, the new skin layer is more responsive to beauty products and skincare measures, increasing absorption and effectiveness. 
Chemical Peels
Chemical peels are another common cosmetic skin resurfacing approach gaining popularity rapidly. The process is simple and similar to a peel-off mask. But instead of some beauty mask, a medical esthetician applies an acidic solution, such as salicylic acid, to the skin. This chemical mask sits for about 10 minutes and is then removed. The results appear gradually after some days as your outer skin layer starts to peel off. 
The removing skin layer also plays its role in eradicating skin discoloration, scars, indentation, and other issues. Do not pull or forcefully peel off the skin, as it may cause damage and irritation. Let your skin do its job and enjoy youthful and beautiful skin free of imperfections. 
After the initial healing period following a chemical peel, some improvements will be immediately noticeable: brighter, tighter-feeling skin and a more even skin tone. However, the effects of a peel are cumulative, and many patients find repeating treatment periodically is needed for optimal results.

Carbon Laser Peel 
Carbon Laser Peel is another new advancement in the aesthetic world. This procedure works by using a carbon mask that absorbs all the impurities in the skin to cleanse it and extract harmful factors. 
After letting the carbon mask do its job, using a laser, the treatment area is heated to activate the carbon and remove different skin issues such as scarring, spots, pigmentation, texture issues, and fine lines. 
This skin treatment is quick and can also induce a skin rejuvenation effect to restore the skin's natural glow, smoothness, and supple appearance. Cutera Aesthetics can offer its acclaimed assistance and services to you for skin resurfacing. Say goodbye to your skin problems and get a free consultation with our experts today!